GTA: The Criminal Enterprises - The Loop
Play Sound
Yue Jin (died 218) was a general of Cao Cao's Forces during the Fall of the Han period of Chinese history.
Biography
Wei Strike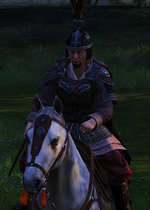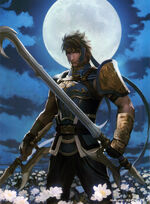 Yue Jin was born in Qingfeng, Yan Province, to a provincial family. When Cao Cao raised troops to fight Dong Zhuo, Yue Jin served as a commander of one of his units and gained recognition for his services in the Battle of Hulao Gate and the Yan Province Campaign in the 190s AD.
In 197 AD, he assisted in the rescue of Cao Cao in the Battle of Wan Castle and that Yue Jin was promoted to General, becoming one of Wei's Five Generals, which also included Xu Huang, Yu Jin, Zhang Liao, and Zhang He.
Yue Jin later participated in the Battle of Changban, Battle of Chibi, and Battle of Tong Gate, and in 215 AD, was an assistant to Zhang Liao in the defense of Hefei at the Battle of Xiaoyao Ford.
Death
In the Hefei Campaign that followed the Battle of Xiaoyao, Yue Jin led an army to pursued Sun Quan's battered army. At the Battle of Ruxukou, Yue Jin meet with Ling Tong and Gan Ning's units.
In a duel with Ling Tong, he had the advantage, but Gan Ning loosed an arrow, striking Yue Jin in the face. Soldiers from both sides then closed in for melee and to rescue their generals, and Yue Jin was taken back to camp for medical treatment.
He died of his wounds in the Wei main camp.