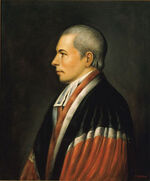 William Paterson (24 December 1745 – 9 September 1806) was a US Senator from New Jersey from 4 March 1789 to 13 November 1790, preceding Philemon Dickinson; Governor of New Jersey from 29 October 1790 to 30 March 1793, succeeding Elisha Lawrence and preceding Thomas Henderson; and an Associate Justice of the US Supreme Court from 4 March 1793 to 8 September 1806, succeeding Thomas Johnson and preceding Henry Brockholst Livingston.
Biography
William Paterson was born on 24 December 1745 in County Antrim, Northern Ireland, Great Britain to a Scots-Irish family, and he moved to the Thirteen Colonies at the age of two. He studied law with Richard Stockton and was admitted to the bar in 1768, founding the American Whig-Cliosophic Society with Aaron Burr. In 1776, Paterson was made the Attorney-General of New Jersey, becoming one of the most prominent lawyers in the state; he attended the Constitutional Convention in 1787 and proposed the New Jersey Plan, which would give equal representation from each state to the US Congress. Paterson served as Governor from 1790 to 1793, when he was nominated for the US Supreme Court, and he died at the age of 60 in 1806 from injuries sustained in a coach accident three years earlier.
Community content is available under
CC-BY-SA
unless otherwise noted.