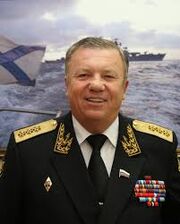 Vladimir Petrovich Komoyedov (14 August 1950-) was an admiral of the Russian Navy who led the Russian Black Sea Fleet from 1998 to 2002 and became the chair of the Russian Parliament's defense committee.
Biography
Vladimir Komoyedov was born on 14 August 1950 in Nikipol, Dnepropetrovsk, Ukraine SSR in the Soviet Union and graduated from the Frunze Naval School. From 1997 to 1998 he held command over the Russian Northern Fleet, and from 1998 to 2002 he led the Russian Black Sea Fleet. He became the chairman of the Russian Parliament's defense committee in 2007, and he was involved in planning Russia's intervention in the Syrian Civil War from late 2015 onwards. Komoyedov was interviewed by 60 Minutes journalist Bill Whitaker on 10 January 2016 in a documentary about the Russian campaign in Syria, and he stated that he was not a fan of President Bashar al-Assad, insulting him in Russian and saying that people deciding their government through elections failed in Syria. He even went on to say that the Syrian Opposition had been formed in response to al-Assad's mistakes, and he said that al-Assad needed to work on his army and raise morale.
Community content is available under
CC-BY-SA
unless otherwise noted.