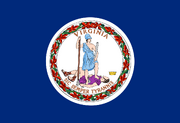 Virginia
is one of the fifty states of the
United States
, located on the East Coast along the
Atlantic Ocean
. Nicknamed "the Old Dominion", Virginia was the location of the first permanent English settlement in
North America
,
Jamestown
, which was founded in 1607 by
Separatists
. The
Colony of Virginia
crushed the
Powhatan
tribe and used slave labor to bring wealth to the colony, with cotton, tobacco, rice, and other goods being cultivated by slaves on plantations. The state was the most industrialized of the southern states at the time of the
American Civil War
, and it seceded to join the
Confederate States of America
due to slavery being a major party of the economy. Its capital, Richmond, served as the Confederate capital under
Jefferson Davis
, and the state was recaptured in 1865 at the end of the civil war. Since the end of the civil war, Virginia has since grown into an economoc center, with agriculture in the
Shenandoah Valley
, federal agencies such as the Department of Defense and
CIA
in the north, and the military seaports of Norfolk and Hampton Roads. In 2015, the state had a population of 8,382,998 people, with 63.1% being white, 19.7%
African-Americans
, 8.9%
Hispanics
, 6.3%
Asians
, and .5%
Native Americans
.
Gallery
Community content is available under
CC-BY-SA
unless otherwise noted.