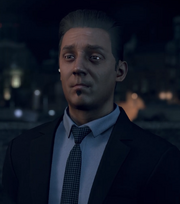 Vincent MacMillan (1972-2020) was a British MI6 officer and DedSec operative who lived in London during the 2020s. He was the first member of the new DedSec network to be gunned down in the line of duty.
Biography
Vincent MacMillan was born in Dundee, Scotland in 1972. He was a debate club champion and a former member of a bagpipe-only band before joining MI6. He came to own a golden gun, made £170,200 a year, and became a DedSec supporter after meeting an earnest young sympathizer at the shops in London in 2020. That same year, he hacked the NHS database at Guy's Hospital in South London to investigate Clan Kelley's organ harvesting racket, and he later met DedSec operative Charlie Robinson at Blackfriars Bridge and asked him to help him retrieve the last batch of stolen organs from Clan Kelley. After Robinson stole the ambulance carrying the organs from Spitalfields Market and delivered it to Royal London Hospital, MacMillan agreed to join DedSec.
Shortly after, he found construction worker James Tsoy being victimized by Albion member Bryan Johnson, so he struck Johnson with his car and recruited Tsoy into DedSec. He then set out to rescue Shehab Alnaqbi's undocumented friend Peter Shirazi from a Clan Kelley hideout at Leather Lane Market in Camden Town. He took down Clan Kelley guards Laurentiu Popescu and Billy Gillespie before investigating the market, and he then rescued Peter Shirazi and called Alnaqbi to tell him that his friend was nearly human trafficked, but had been freed. He later accidentally struck Francesco Sharma when his car malfunctioned as he was delivering a parcel, ruining George Sharma's interest in joining DedSec.
MacMillan, hoping to redeem himself, decided to infiltrate Carousel Plaza in the City of London and sabotage the Albion base to help liberate the district. He took down Diana Sharma with a spider bot and personally knocked out Albion guard Timo Albrecht before shooting down a few drones with his electric gun and hiding before Albion could locate him. He then took down Jen Wolff and Captain Dwayne Alexander and hacked Albion's automated propaganda hub (which broadcast "safety notifcations") into breaking down. He then went to the Horizon Multinational construction site, where he hacked a news drone to infiltrate the site and find damning evidence against Albion. He piloted the hijacked GBB news drone down an exhaust vent and took pictures of advanced schematics for a surveillance drone called "GogOS", uploading it to Bagley so that he could find its weaknesses. MacMillan finally travelled to The Roberts & Scott Hall and hacked into the system, finding a DedSec lair with stolen Albion files regarding online influencers who were sent to be "rehabilitated". With the City of London ready to rise up, an informant told DedSec that Albion was operating a "Realignment Clinic" out of Walkie Talkie, carrying out mind-altering experiments. MacMillan headed out to meet up with the DedSec informant Benjamin Desai, and Desai told him that the Realignment Center messed with people, including one of his friends, who killed himself a week after he was brainwashed. Before heading to the center, MacMillan rescued Nina Thakur and Moe Davies from their Albion guards at the Monument to the Great Fire of London. This led to a shootout, and he gunned down Arnie Baker, Skye Gleason, Daniel Almeda, Christopher Affleck, and Francesco Ricci before attempting an escape throughout the City of London and Tower Hamlets, only to be subjected to a major manhunt. He switched vehicles a few times before being cornered while attempting to force his way into the London Underground at Cannon Street Station, and he was shot dead by Hal Lane while attempting to flee. Fellow intelligence agent Riley Coyne then picked up where he left off.
Gallery
Community content is available under
CC-BY-SA
unless otherwise noted.