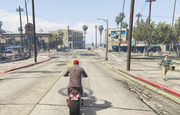 Venice
is a residential, commercial, and recreational beachfront neighborhood of
Los Angeles
,
California
. The town as founded in 1905 as a seaside resort town, with millionaire Abbot Kinney buying two miles of oceanfront property south of
Santa Monica
and turning it into a seaside resort similar to
Venice
,
Italy
. The
Venice Canals
were built to impersonate the canals of Venice, but the canals would soon fall into disrepair, and Venice was neglected. From 1929 to 1931, 450 oil wells were set up in Venice, providing needed income to the city during the
Great Depression
, and the wells produced oil into the 1970s. By the 1950s, Venice had become known as "Slum by the Sea", and the city spent little on infrastructure after it was annexed by Los Angeles. The
Hispanic
Venice 13
gang was founded during the 1950s, and the
African-American
Venice Shoreline Crips
gang was founded in the early 1970s. In the early 1990s, the
Crips
were involved in a bloody, brutal war over the sale of crack cocaine in the neighborhood. While violence had since decreased, gangs continue to be active in Venice. By 2002, the numbers of gang members were decreased by gentrification and increased police presence, and many Lost Angeles
Westside
gang members resettled in
Inglewood
. However, one author said that "the gunplay of the Shoreline Crips and V-13 is as much a part of life as pit bulls playing with blonde Labs at the local dog park." In 2008, Venice had a population of 40,885 people, with 64.2% being white, 21.7%
Hispanic
, 5.4%
African-American
, 4.1%
Asian
, and 4.6% other.
Community content is available under
CC-BY-SA
unless otherwise noted.