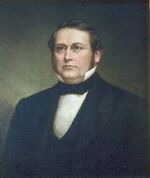 Thomas Pratt
 (18 February 1804-9 November 1869) was Governor of
Maryland
(
W
) from 6 January 1845 to 3 January 1848, succeeding
Francis Thomas
and preceding
Philip F. Thomas
, and a
US Senator
from 12 January 1850 to 4 March 1857, succeeding
David Stewart
and preceding
Anthony Kennedy
.
Biography
Thomas Pratt was born in Georgetown, Maryland in 1804, and he became a lawyer in Upper Marlboro in 1823. He married Governor Joseph Kent's daughter, and he served in the House of Delegates as a Whig; he then served as Governor from 1845 to 1848, supporting the extension of the B&O Railroad into Ohio. He then served as a US Senator from 1850 to 1857, joining the Democrats after the dissolution of the Whigs. He had Confederate sympathies during the American Civil War, and he served as one of Jefferson Davis' attorneys after the war. He died in 1869.
Community content is available under
CC-BY-SA
unless otherwise noted.