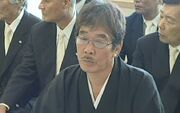 Tadamasa Goto (16 September 1942-) was the boss of the Goto-gumi clan of the Yamaguchi-gumi Yakuza family of Japan.
Biography
Tadamasa Goto was born on 16 September 1942 in Ebara, Tokyo, Japan, and he moved to Fujinomiya in Shizuoka Prefecture during World War II. He became a street thug before joining the Yakuza in 1972, and he joined an affiliate of the Yamaguchi-gumi gang. In 1985, he formed his own Yakuza group, the Goto-gumi, but he made a deal with the American FBI in 2001, in which he donated $100,000 to the UCLA Medical Center in Los Angeles, California and agreed to give information to the FBI about fellow Yamaguchi-gumi leaders in exchange for a liver transplant. In 2008, he was forced out of the Yakuza scene by Kiyoshi Takayama and the Kodo-kai gang. Goto became a Buddhist priest under the name "Chuei" after his retirement.
Community content is available under
CC-BY-SA
unless otherwise noted.