Roblox: DeepWoken - The Loop
Play Sound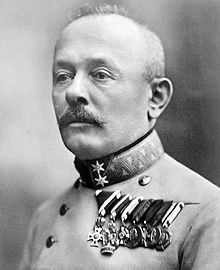 Svetozar Boroevic (13 December 1856 – 23 May 1920) was a Field Marshal of Austria-Hungary who commanded the Austro-Hungarian Army forces in the Italian Campaign of World War I.
Biography
Svetozar Boroevic was born on 13 December 1856 in Umetic, Croatia, Austria-Hungary to a Greek Orthodox Croatian Serb family. He joined the cadet school at the age of ten, and his first war was the Bosnian Uprising of 1878, and two years after the end of the war, he was promoted to Oberleutnant. In 1905 he was made Baron von Bojna, and in 1913 he was made a General der Infanterie of the Austro-Hungarian Army. At the start of World War I in 1914, Boroevic was the commander of the Austro-Hungarian 6th Corps on the Eastern Front of World War I. He assisted in the liberation of Przemysl from the Russian Empire, but in February–March 1915 a Russian offensive threatened to push his Austro-Hungarian 3rd Army back into Hungary. On 25 May 1915 he was transferred to the new front against Italy with a part of the 3rd Army, leaving August von Mackensen in charge of his former Eastern Front command.
Boroevic was the commander of the Austro-Hungarian forces on the Isonzo River front, and his troops were able to contain eleven Italian attacks. However, in 1918 his army was defeated at the Battle of the Piave River and the Battle of Vittorio Veneto, and he vehemently opposed the division of the Austro-Hungarian Army between Austrian and Hungarian units that occurred after Hungary gained independence on 31 October 1918. Boroevic's offer to put down the anti-Habsburg revolution in Vienna was refused by King Charles I of Austria, and after the war, he was not allowed to move to Yugoslavia, the new nation that now included his home country of Croatia (although the baggage that he sent there in advance was let into the country before being confiscated). Boroevic did not understand his mean treatment, and he moved to Austria. He died in Klagenfurt, Carinthia, Austria on 23 May 1920, but the exiled former King Charles I paid for his body to be moved to Vienna. He was the only South Slav field marshal of Austria-Hungary.