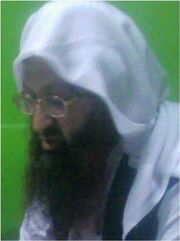 Fazeel-a-Tul Sheikh Abu Mohammed Ameen al-Peshawar (born 1961), also called Abu Mohammed Amin Bishawri, Aminullah al-Peshawari, Abu Mohammed Aminullah Peshawari, Abu Mohammed Shaykh Aminullah al Bishauri, Shaykh Abu Mohammed Amin al-Peshawari, or simply just Sheikh Aminullah, is an Afghan financier, recruiter, and weapons facilitator for the Ganj Madrassa religious institution who is wanted by the FBI for giving materiel support to Al-Qaeda, the Taliban, and anti-coalition militias.
Biography
Aminullah was born in Kunar Province, Afghanistan, in either 1961, 1967, or 1973. He became the founder and director of the Ganj Madrassa in the Ganji District of Peshawar, Pakistan, leading the religious institution. However, he also became a financier, recruiter, and weapons facilitator for the institution and gave material aid to Al-Qaeda, Taliban, and anti-Coalition militias in Afghanistan with help from the Pakistan-based terrorist group Lashkar-e-Taiba. He is currently wanted for questioning by the FBI.
Community content is available under
CC-BY-SA
unless otherwise noted.