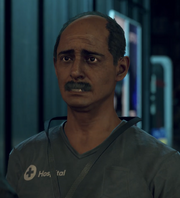 Shehab Alnaqbi (1946-) was a British nurse and DedSec operative who lived in London during the 2020s.
Biography
Shehab Alnaqbi was born in the United Arab Emirates in 1946,and he later emigrated to the United Kingdom and came to work as a nurse. He came to work at Guy's Hospital in Southwark, London by the 2020s. He subscribed to a popular relationship vlogger, dated Ella Molyneux, volunteered at homeless shelters, and offered free medical service for immigrants. In 2020, he contacted DedSec operative Charlie Robinson to investigate the disappearance of some of the refugees whom he had helped out through a charity; Robinson's colleague Vincent MacMillan tracked down Alnaqbi's friend Peter Shirazi to Leather Lane Market in Camden Town, where he and other undocumented immigrants had been jailed by Clan Kelley. MacMillan freed Shirazi and called Alnaqbi, who stated his shock that Clan Kelley was involved in human trafficking, as they had shown him documents claiming that they were a human rights organization. He then agreed to join DedSec.
Community content is available under
CC-BY-SA
unless otherwise noted.