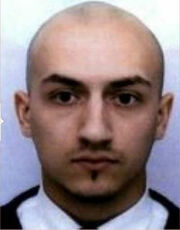 Samy Amimour
(15 October 1987-14 November 2015) was a member of the
Islamic State
from
France
.
Biography
Samy Amimour was born on October 15th, 1987 in Drancy, Paris, France to a family of Sunni Muslims, and on 19 October 2012 he was indicted for planning to join the jihad in Yemen or Afghanistan. However, in 2013 he left to fight in the Syrian Civil War with jihadists, and he married there in the summer of 2014 before returning to France at some point. He was a bus driver in Pavillon-sous-Bois in Seine-Saint-Denis for fifteen months before quitting, and he joined the Islamic State cell in Western Europe that perpetrated the November 2015 Paris attacks. Along with Foued Mohamed-Aggad and Omar Ismael Mostefai, he fired blindly at the audience in the Bataclan concert hall and killed a few hostages. In total, 87 people were killed. He was killed when French police engaged the terrorists in a shootout. He would later blow himself up.
Community content is available under
CC-BY-SA
unless otherwise noted.