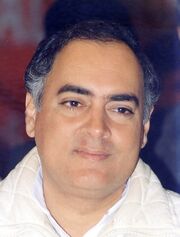 Rajiv Gandhi (20 August 1944 – 21 May 1991) was the Prime Minister of India from 1984 to 1989, succeeding his mother Indira Gandhi and preceding Vishwanath Pratap Singh. Like his mother and brother, he died while in politics, with Rajiv dying of a suicide bombing and his brother Sanjay Gandhi dying in a plane crash.
Biography
Rajiv Gandhi was born on 20 August 1944 to Indira Gandhi and her husband Feroze Gandhi. He gained a college education in the United Kingdom and dated waitress Antonia Maino, an Italian waitress at a Greek restaurant. In 1966 he returned to India and became a pilot, and in 1968 he married Antonia. He was not involved in politics until after the death of his brother Sanjay Gandhi in a plane crash, as his mother urged him to take Sanjay's place. When his mother was killed by Sikhs in 1984 he replaced her as Prime Minister and had an incorruptible facade, but during his reign he allowed Hindu mobs to take revenge on Indira's death by attacking Sikhs and he was also responsible for a scandal involving his use of secret Swiss bank accounts to hide his money, his Operation Cactus war in the Maldives, and his intervention in Sri Lanka's Tamil independence crisis in his crushing of Tamil Tigers rebels in the Tamil Nadu state of Carnatica. In 1987 his scandal with the Swedish Bofors arms company led to his party losing elections in 1989, but he remained active politcally.
Death
Gandhi set out to campaign for the new party elections in 1991, and he stopped in the city of Sriperumbudur in the Tamil Nadu state, where many people garlanded him. However, Tamil Tigers member Thenmozhi Rajaratnam approached him and she bent down to touch his feet as a sign of respect. However, she detonated RDX explosives tucked under her dress, killing Gandhi, herself, and 14 other people.