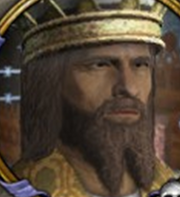 Pope Celestine III (1106-8 January 1198), born Giacinto Bobone, was Pope from 1191 to 1198, succeeding Pope Clement III and preceding Pope Innocent III.
Biography
Giacinto was made a Cardinal in 1144 by Pope Celestine II, and he took his name in 1191 when he was made pope. During his tenure as pope, the Third Crusade retook much of the Levant from Saladin. In 1198 he confirmed the status of the Templar Order as a military order, and he died the same year.
Community content is available under
CC-BY-SA
unless otherwise noted.