World of Warcraft: Dragonflight - The Loop
Play Sound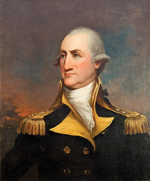 Peter Muhlenberg (1 October 1746 – 1 October 1807) was a Major-General in the Continental Army during the American Revolutionary War who went on to serve in the US House of Representatives for Pennsylvania's at-large district from 4 March 1789 to 4 March 1791 and from 4 March 1793 to 4 March 1795 and from its 4th district from 7 March 1799 to 4 March 1801 (succeeding John Chapman and preceding Isaac Van Horne), as well as serving as a US Senator from 4 March to 30 June 1801 (succeeding William Bingham and preceding George Logan). He was a Democratic-Republican.
Biography
Peter Muhlenberg was born in Trappe, Pennsylvania in 1746 to a Pennsylvania Dutch family, and he was the brother of future congressman Frederick Muhlenberg. He briefly served in the British Army and in the German dragoons before returning to Philadelphia in 1767, and he was ordained as a Lutheran minister in 1768. In 1772, he was ordained into the Anglican priesthood, although he served a Lutheran congregation; since his church was in Virginia, he was required to be Anglican in order to serve a congregation. He was elected to the House of Burgesses in 1774, and he raised the 8th Virginia Regiment for the Continental Army during the American Revolutionary War, serving as its colonel. He became a Brigadier-General by the time that the army of George Washington was encamped at Valley Forge, and he saw action in the Battle of Brandywine, the Battle of Germantown, and the Battle of Monmouth. In 1778, Muhlenberg was sent to command militia units in Virginia, and he commanded a brigade in the Marquis de Lafayette's division at the Siege of Yorktown in 1781. After the war's end in 1783, he was brevetted to Brigadier-General and retired to Montgomery County in his home state of Pennsylvania.
After the war, Muhlenberg was elected to the executive of Pennsylvania, and he served as Lieutenant Governor from 31 October 1787 to 14 October 1788 under Governor Benjamin Franklin. In 1789, he was elected to the US House of Representatives as one of the at-large representatives from Pennsylvania, and his brother was Speaker of the House for that same Congress. In 1801, he briefly served as a US Senator before President Thomas Jefferson appointed him supervisor of revenue for Pennsylvania and customs collector for Philadelphia in 1802. He died on his 61st birthday in 1807.