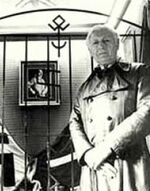 Paul Schafer (4 December 1921-24 April 2010) was a German Baptist religious leader and neo-Nazi who was infamous for his sexual abuse of children at his Colonia Dignidad agricultural commune in Chile.
Biography
Paul Schafer was born in Troisdorf, Germany in 1921, and he joined the Hitler Youth movement at a young age and served as a Wehrmacht medic during World War II. Following the war, he set up a children's home and a Baptist ministry, and he fled West Germany in 1959 with some of his followers after being accused of child sexual abuse. The conservative Chilean president Jorge Alessandri allowed him to create a Baptist and anti-communist community outside of Parral in 1961, and he and his followers founded Colonia Dignidad. A staunch neo-Nazi, Schafer allowed for Augusto Pinochet's right-wing military dictatorship to use Colonia Dignidad as a torture and detention center. On 20 May 1997, Schafer fled child sex abuse charges, and he was captured on 10 March 2005. In 2006, he was sentenced to 33 years in jail, and he died in 2010.
Community content is available under
CC-BY-SA
unless otherwise noted.