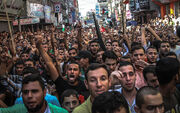 The Palestinians are an ethnic group who are culturally and linguistically tied to Arabs. Originating in the Palestine region of the Levant, they now only make up 49% of the population, as an influx of Jews following the Holocaust and the foundation of the state of Israel has led to the Palestinians fleeing to other countries in refugee camps. Palestinians blame the Jews for taking their homes, although Jews have deep roots in the Palestine region; there has been a fierce rivalry between the two peoples since the 1948 independence of Israel. Since 1948, most of the Palestinians are in a diaspora stretching from the Arab World to South America, with most of the diasporic Palestinians being Arab Christians. In 2016, 4,750,000 Palestinians live in Palestine, 3,240,000 in Jordan, 1,470,000 in Israel, 630,000 in Syria, 500,000 in Chile, 403,000 in Lebanon, 280,000 in Saudi Arabia, 270,000 in Egypt, 255,000 in the United States, 250,000 in Honduras, 170,000 in the United Arab Emirates, and thousands more elsewhere. 93% of Palestinians are Sunni Muslim, while 6% are Christians and 1% Druze/Samaritans.
Community content is available under
CC-BY-SA
unless otherwise noted.