The
Ogigayatsu
were a branch of the
Uesugi
clan, their leader
Norikatsu Ogigayatsu
being a direct descendant of the Uesugi clan.
History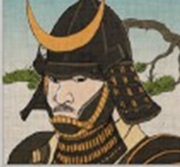 The Ogigayatsu were a branch of the Uesugi clan, but unlike
Harukage Nagao
's Nagao branch, had a base in Musashi Province, while the Nagao had Echigo and the Yamanouchi had Province. The Ogigayatsu clan fought the Nagao and Yamanouchi clans a lot before the
Warring States Period
, but by 1545, they were allies. The Ogigayatsu member
Tomosada Ogigayatsu
was slain in the
Siege of Kawagoe Castle
, and afterwards, the clan crumbled. In 1546,
Ujiyasu Hojo
, who led the defense of Kawagoe, took Edo Castle, the stronghold of the Ogigayatsu, and took over the Ogigayatsu clan's territory, crushing them.
Members