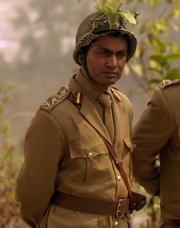 Nirmal Sen (1900-1932) was an Anushilan Samiti leader and the younger brother of Surya Sen. Sen took part in the 1930 Chittagong armory raid, and he was killed in an encounter with Indian police at Dhalgat two years later.
Biography
Nirmal Sen was born in Chittagong, Bengal Presidency, British Raj in 1900, the younger brother of Surya Sen. The Sen brothers became involved with the Anushilan Samiti revolutionary organization, and Nirmal Sen became one of the leaders of the 1930 uprising against British rule, becoming a commander of the Indian Republican Army. Sen fell in love with Pritilata Waddedar, a fellow revolutionary, and Waddedar joined the Indian Republican Army after the inspirational 1930 Chittagong armory raid. Nirmal Sen, Waddedar, and Surya Sen would flee from the Indian Imperial Police and hide out at a home in Dhalgat, where the plotted the assassination of policemen Ahsanullah Khan and Charles Johnson. Their meeting was interrupted when Khan and the Imperial Police arrived, and Sen was shot in the chest while attempting to fire on the policemen from the doorway of an elevated house, with Surya Sen and Waddedar refusing to leave him behind and run. Sen told Surya, "The movement must go on!", and his last word was "Priti", speaking to his lover before dying of his gunshot wound.
Community content is available under
CC-BY-SA
unless otherwise noted.