Fire Emblem Warriors: Three Hopes - The Loop
Play Sound
Nicholas Biddle (September 10, 1750 Philadelphia, Thirteen Colonies-March 17, 1778 Barbados, Province of the Bahamas) was a British naval officer who first served in the Royal Navy but later became one of the first five captains of the Continental Navy. He died in 1778 while fighting HMS Aquila.
Biography
Biddle was born in Philadelphia, in the Province of Pennsylvania, part of Great Britain's Thirteen Colonies in North America. He joined the Royal Navy in 1770, and in 1773, he met future naval hero Horatio Nelson and became acquainted with him. Around that time, he had met with Benjamin Church at Martha's Vineyard, where they discussed Biddle joining the Knights Templar organization. He accepted, and in 1775, with the Revolutionary War, he became a captain in the Continental Navy, captaining USS Randolph.
Captain Biddle captured HMS True Briton and three other ships in September 1777, one of his first successes. He had many other victories in his brief career in the Continental Navy.
Death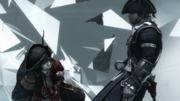 On March 17, 1778, off Barbados, his ship clashed with HMS Aquila, a British ship captained by Connor Davenport, who was a member of the Hashshashin, rivals of the Templars. Davenport killed Biddle on the lower deck after a duel, and he blew up the ship on Biddle's last requests for the USS Randolph to not be taken as a prize. However, official reports say that the HMS Yarmouth was the one that attacked his ship, and a cannonball to the magazine is what finished Biddle and 305 other crew members.