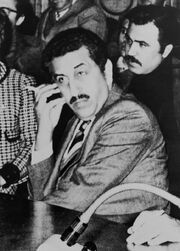 Muhammad Youssef al-Najjar (1927-10 April 1973), also known as Abu Youssef, was a key leader of the Fatah faction of the Palestine Liberation Organization (PLO) and a member of its central committee and the Palestinian National Congress. Suspected of being involved in the Munich massacre of 1972, al-Najjar was murdered in Beirut during Operation Spring of Youth in 1973. During the operation, two Lebanese police officers, an Italian woman, and Najjar's wife were also killed. Some historians believe that he was political figure whose involvement in violence was minor and debatable.
Biography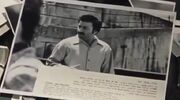 Muhammad Youssef al-Najjar was born in 1927 in the village of Yibna (near Ramla), Mandatory Palestine. In 1948, he moved to the Gaza Strip after fighting broke out between the new state of Israel, its Arab neighbors, and Palestinian villagers, and he worked as teacher in the Rafah refugee camp until 1954. He then moved to Egypt, where he attended Cairo University and became a qualified lawyer. al-Najjar joined the Fatah resistance movement in the late 1950s and formed similar groups in Qatar, hoping to create an independent Palestinian state. Taking command of Fatah's military wing, he was appointed to the Executive Committee of the Palestine Liberation Organization (PLO) in 1968, becoming the group's third-in-command. In 1972 he was allegedly involved with the Munich massacre in West Germany in which 11 Israeli athletes and coaches were killed by the Black September Organization (BSO), being one of the men attending the planning conference in Beirut in January 1972 and having served as the PLO's liaison with the BSO. Israel's Mossad intelligence agency sought to bring to justice several Palestinian leaders connected to the massacre in "Operation Wrath of God" and, along with Kamal Adwan and Kamal Nasser, Abu Youssef hid in West Beirut, Lebanon.
Death
On 10 April 1973, the Mossad launched a raid into Lebanon with the Israel Defense Forces (IDF) in "Operation Spring of Youth". The IDF attacked their apartment, and Adwan and Nasser were killed first. However, al-Najjar put up a fight, shooting an Israeli soldier through the wall with an automatic weapon. He sat on his bed with his wife, and when IDF troops entered his room, his wife moved in front of him to shield him. Abu Youssef and his wife were both killed by the Mossad agents.
Community content is available under
CC-BY-SA
unless otherwise noted.