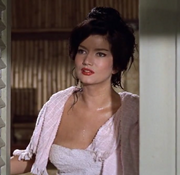 Miss Taro
was a secretary for
British
colonial administrator
Louis Pleydell-Smith
in
Jamaica
. Taro was hired as a spy by
SPECTRE
leader
Julius No
, who wanted to investigate
MI6
spy
James Bond
after he was sent to investigate No's operation on
Crab Key
. Taro failed to find any files on Dr. No or Crab Key for Pleydell-Smith and Bond when they began the investigation in 1962, but she listened to their conversation through a keyhole. Bond caught her, and she explained that she had been kneeling to look for the missing files. Bond invited her to tour the island the next day, and Taro decided to lure Bond into a trap. Bond survived an attack by the "
Three Blind Mice
" 
en route
to Taro's home, and Taro was surprised when he showed up. Bond succeeded in seducing and making love to her twice, ruining her plans to stall him until an assassin could arrive to kill him. Bond then lured her into the back seat of a police car, claiming that he was taking her out to dinner, and he told the policeman to watch out for her nail polish, leading to Taro spitting on Bond's face before the car left for the prison.
Community content is available under
CC-BY-SA
unless otherwise noted.