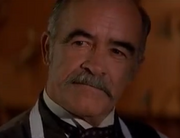 Milt Joyce (1847-1889) was the owner and operator of the Oriental Saloon in Tombstone, Arizona Territory, Chairman of the Cochise County Board of Supervisors, and leader of the Ten Percent Ring.
Biography
Milt Joyce was born in 1847, and he became the owner of the Oriental Saloon in the boomtown of Tombstone, Arizona during the Wild West era. He also sat on the Cochise County Board of Supervisors as a Republican, becoming its chairman, as well as the leader of the Ten Percent Ring political machine in Tombstone. The Ten Percent Ring was so-called because it stole 10% of the town's tax income, which consisted of duties from prostitution, gambling, liquor, and theater taxes, collected by Sheriff Johnny Behan. In 1881, when Wyatt Earp entered town, he was told by Sheriff Johnny Behan that the Oriental Saloon was a slaughterhouse, but Wyatt decided to enter and buy a cigar from Joyce. He then asked about why the saloon was nearly empty, and Joyce showed him a troublesome out-of-towner, Johnny Tyler, who had scared off all of the wealthy clientele. Wyatt stood off with Tyler and threw him out of the saloon, warning him to never come back. He then asked Joyce if he needed a new dealer, and Joyce agreed to give him 25% of each card game profits. Joyce left Tombstone in 1883 and died in San Francisco in 1889.
Community content is available under
CC-BY-SA
unless otherwise noted.