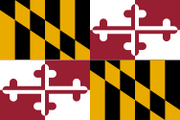 Maryland
is a state of the
United States
located in the
Mid-Atlantic
region on the
Chesapeake Bay
. Colonized in 1632 by
England
,
George Calvert
named the province for Queen
Henrietta Maria of France
, the wife of King
Charles I of England
, the contemporary ruler of England. Calvert intended for the province to be a home for
Catholics
and other groups escaping persecution, and it was the home of religious freedom in America. In 1788, Maryland was the seventh state to ratify the
US Constitution
and join the United States, and the capital of Washington DC was established on land donated by the state. With a population of 6,006,401 people, it is one of the most densely-populated states in America, and it has a highly-diversified economy. Its capital is Annapolis, named for
Anne Arundel
- wife of Governor
Cecil Calvert
- and the federal district of Washington DC is located in southern Maryland. In 2010, Maryland's population consisted 60.1% of whites, 26% of
African-Americans
, .3%
Native Americans
, 2.1%
Asians
, 9% other races, and 2.6% multiracial.
Gallery
Community content is available under
CC-BY-SA
unless otherwise noted.