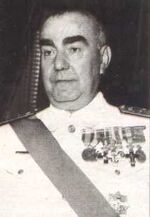 Luis Carrero Blanco
(4 March 1904 – 20 December 1973) was the Prime Minister of
Spain
from 9 June to 20 December 1973, succeeding
Francisco Franco
and preceding
Torcuato Fernandez-Miranda
. He was assassinated by the
Basque
ETA
separatist group in a car bombing in the capital of Madrid on 20 December 1973 while returning from Christmas mass.
Biography
Luis Carrero Blanco was born on 4 March 1904 in Santona, Cantabria, Spain, and he entered the Naval Military School in 1918 before fighting in the Rif War alongside General Francisco Franco. When the Spanish Civil War broke out, he was forced to flee to the embassies of Mexico and France by the Republican forces before he could join the army of Franco, and he became his chief of naval operations. During World War II, he opposed entering the war on the side of the Axis Powers, and he was more of a monarchist than a fascist. During the liberalization of Spain's market in the 1950s, Blanco proposed economic integration with other markets in Europe, and in 1973 he was made Prime Minister of Spain after holding several military commands under Franco.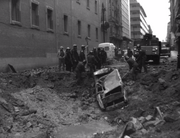 On 20 December 1973, a mere six months after becoming Prime Minister, Blanco was assassinated by an
ETA
car bomb near the San Francisco de Borja church in Madrid, with the ETA claiming that he symbolized "pure Francoism" and had attempted to bring the
Catholic
Opus Dei institution into power. His successor
Carlos Arias Navarro
would start liberalizing Spain, leading to the end of the Franco dictatorship.
Community content is available under
CC-BY-SA
unless otherwise noted.