Fire Emblem Warriors: Three Hopes - The Loop
Play Sound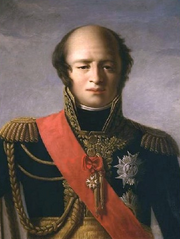 Louis-Nicolas Davout (10 May 1770-1 June 1823) was a Marshal of the Empire of the First French Empire during the Napoleonic Wars. Davout was promoted to Marshal by Napoleon I in 1804, one of the first (and the youngest) of Napoleon's marshals. Davout's largest successes came early in the Napoleonic Wars, including victories at Austerlitz, Auerstedt, and Eckmuhl.
Biography
The son of an aristocratic cavalry officer in Louis XVI's army, Louis-Nicolas Davout joined his father's regiment when he came of age. He was rapidly promoted to brigadier-general in the early stages of the French Revolutionary Wars, but his career was interrupted because his noble origins aroused suspicion. Napoleon had no such prejudices, taking Davout with him on his expedition to Egypt in 1798. Here he performed impressively as commander of a cavalry brigade.
Success at Austerlitz
At age 34, Davout was the youngest of the marshals appointed in 1804. At Austerlitz the following year, he brought a corps by forced marches from Vienna to reach the battlefield as the fighting began, and held the French right against the main thrust of the Austro-Russian attack. In October 1806, he defeated the main body of the Prussian army at Auerstedt single corps, while Napoleon was engaged with lesser forces at Jena. Davout continued to serve with distinction through the campaign against Russia in 1807, including the winter battle of Eylau, and in the 1809 Wagram campaign against Austria. Napoleon accorded him the title Prince of Eckmuhl after his victory there in April 1809.
Davout's part in the disastrous invasion of Russia in 1812 did not enhance his reputation, but he stood firm amid failing French fortunes, holding Hamburg under siege in 1813-14. He rejoined Napoleon for the Hundred Days as his minister of war, but was later reconciled to the French monarchy. Though Davout lacked the appeal of some marshals - he was a severe disciplinarian - his military skill, dependability, and tactical judgement were the qualities of a truly oustanding commander.