Fire Emblem Warriors: Three Hopes - The Loop
Play Sound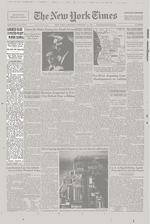 The Lockheed bribery scandals was an international political and business scandal which broke in 1976 when it was revealed that the American aircraft manufacturer Lockheed had paid $22 million in bribes to foreign officials in the process of negotiating the sale of the F-104 Starfighter in what was called "the Deal of the Century". In Japan, the scandal led to Prime Minister Kakuei Tanaka's arrest and a suicide bombing assassination attempt on the life of yakuza godfather and far-right powerbroker Yoshio Kodama by a disgruntled actor.
History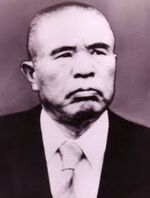 In 1964, the Japanese yakuza godfather and far-right political activist Yoshio Kodama told the national newspaper Mainichi Shimbun that he sought to retire and enjoy the rest of his life fishing. However, he and his associates in the yakuza, the gangyu street thugs, and the government reached the summit of power from the 1960s to the mid-1970s, as he commanded an army of rightists and gangsters, had millions of dollars in his hands, and partnered with a corrupt and complicit government.
However, on 4 February 1976, the Democratic US Senator from Idaho and presidential aspirant Frank Church, in Room 4221 of the Dirksen Senate Office Building in Washington DC, held a packed hearing. He announced to a huge crowd of reporters, spectators, and investigators that Lockheed had used an off-the-books account to buy business intelligence and pay the officials of major European consortia, made million-dollar political contributions to parties and government ministers in Italy, employed as its agent ta prominent leader of the ultranationalist militarist faction in Japan and paid him millions of dollars in fees and commissions, and established its own foreign policy in opposition to the United States government's political line. In the ensuing hearing, a handful of Lockheed top officials and accountants testified how during the past twenty years Lockheed had funneled more than $12.6 million into Japan in illegal payoffs to the country's most powerful figures. The huge sum was expended in an effort to sell more than $1 billion worth of Lockheed aircraft to Japan's number two airline, All Nippon Airways, and to the Ministry of Defense. $7 million of the amount had been packed in cardboard boxes and passed to Lockheed's secret sales agent in Japan, Kodama himself. The Rokkiedo jiken ("Lockheed incident") became Japan's own Watergate scandal, dominating the counrty's affairs. The list of bribed Japanese officials included Prime Minister Kakuei Tanaka, the Secretary-General of the LDP, the ministers of industry and transportation, the chairman of the LDP's Special Committee on Aviation, and the current and former parliamentary vice-ministers of transportation. In addition, Lockheed threw in a kickback of $50,000 to the president of All Nippon Airways on each airplane sold.
The Japanese public was alarmed by the extent of the kuroi kiri ("black mist") of dirty tricks, corruption, and organized crime which had pervaded within the government for years. A November 1974 expose from the monthly Bungei Shunju had detained the enormous sums of black money running through Prime Minister Tanaka's political network (more than $250 million channeled through dummy corporations from big business to members of his party faction), and that $15 million of the total sum was used for payoffs within the LDP to secure the post of prime minister for Tanaka. The immediate effect of the payoffs had been to bolster the position of America's key ally inside Japan, the LDP, which used much of the money not only as bribes, but as election funds ahead of the 1974 upper-house election campaign. While many other severe scandals had previously passed quickly, Tanaka provoked outrage when he stormed out of the Foreign Correspondents' Club of Japan after he was asked unusually direct and probing questions. Two weeks after the Bungei Shunju story first appeared, Tanaka resigned as Prime Minister. The case was particularly impactful in that the case had once again reminded the Japanese people of the rightist-gangster connection, implicated officials of the transportation ministry, one of Japan's leading trade companies, and the Prime Minister himself, and it had brought up the name Yoshio Kodama. Other notable figures involved in the scandal were billionaire Kenji Osano (who had helped Kodama eliminate the President of All Nippon Airways and install a lickspittle in his place), President Richard Nixon (who, in an August 1972 summit with Tanaka at one of Osano's hotels in Hawaii, had suggested Lockheed as the American company Tanaka intended to buy $320 million of civil aircraft from in order to help alleviate the USA's trade deficit), and Dietman Koichi Hamada (a former Inagawa-kai gangster who had taken part in gambling trips to Las Vegas, funded by Osano with Lockheed bribes).
After the 1976 Senate testimony in Washington, the Japanese press crusaded against Kodama, and investigators raided his hoouse and seized vast quantities of his personal files (those he hadn't burned); at the same time, tax officials began probing his financial dealings, searching for evidence of the Lockheed money and possible tax evasion. The 65-year-old Kodama suffered a stroke and was confined to his mansion, but demonstrators from both right and left protested outside his house, with leftist radicals attempting to storm his gates before being repulsed by police and still-loyal yakuza. Ultranationalist groups also sent Kodama suicide notes, asking him to commit seppuku for staining Japan's honor, and rumors even floated around that the Yamaguchi-gumi was plotting his assassination. On the morning of 23 March 1976, 29-year-old film actor Mitsuyasu Maeno - a former ultranationalist admirer of Kodama - rented a plane and flew it into Kodama's Setagaya (a Tokyo suburb) mansion after circling his house twice and shoouting the war cry Tenno heika banzai! twice. The attack set the building ablaze, but Kodama was sleeping in a bed in another part of the house, and Kodama's guards doused the fire. Kodama's bodyguards were so enraged that they attacked newsmen outside the house, and ten riot police warned the newsmen not to "excite the young men." In June 1977, Kodama ultimately faced trial for tax evasion and violation of foreign exchange laws, and, from then on, he refused to leave his home, claiming ill health.
Kodama's arrest ended an era in Japan, and fifty best-seller books on Kodama's life were soon released, and a host of plays and movies were made about him and the Lockheed scandal. Along with Kodama and his private secretary, fourteen other individuals were also indicted, including Osano, who was charged with perjury, bribery, and violation of foreign exchange laws. Ultimately, the Prime Minister, the LDP Secretary-General, and the Parliamentary vice-Minister of Transportation were convicted, with Kodama evading persecution due to his ill health. US-Japan relations were not noticeably harmed, as Secretary of State Henry Kissinger decided to keep key records of the case sealed in federal court rather than let their release damage American foreign policy interests. In 1985, Lockheed's money changer, Deak and Company, was forced to file for bankruptcy by a run on deposits by customers after the President's Commission on Organized Crime publicly linked the company to money launderers. Its owner, Ncholas Deak, was murdered in his Manhattan office months later, apparently by a demented drifter.
Aftermath
In 1977, the US Congress passed the Foreign Corrupt Practices Act of 1977, outlawing overseas bribes by US corporations. The law was meant to guarantee a transparent business climate, but political scientist Chalmers Johnson opined that it instead worsened the American balance of payments while enriching several large American law firms and ensuring that future business would go to America's competitors instead. In Japan, excluding Kodama, all those indicted were found guilty. In October 1983, Tanaka himself was convicted of accepting $2.1 million to arrange the purchase of Lockheed's TriStar by All nippon Airways, and he was sentenced to four years in jail and ordered to pay a fine equaling the amount he received as a bribe. Tanaka and the other defendants remained free while appealin their verdicts, and it would be 19 years until the Supreme Court upheld the last of the original decisions. Osano continued investing and making vast sums of money. He ultimately died in 1986. Tanaka went on to become the "shadow shogun" of the LDP, controlling 119 of the 422 LDP seats in the Diet, and serving as a kingmaker; he oversaw the election of Yasuhiro Nakasone as Prime Minister in 1982 and 1984. Until suffering from a stroke in 1985, Tanaka remained the most powerful man in Japan. He died a free man in 1993, and his appeal of the Lockheed case was quietly dismissed by the Supreme Court. Kodama died of a stroke in 1984, and Kakuji Inagawa declared that, "The world will never see the likes of Yoshio Kodama again."