watch 02:45
The Loop (Games)
Play Sound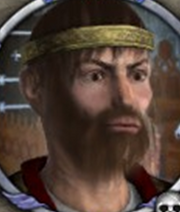 Leopold V "the Virtuous", Duke of Austria (1157-31 December 1194) was the Duke of Austria from 1177 to 1194, succeeding Henry II of Austria and preceding Frederick I of Austria. Leopold is most famous for his role in leading the Third Crusade alongside Richard the Lionheart of England and Philip Augustus of France, as well as for capturing Richard after having a feud with him.
Biography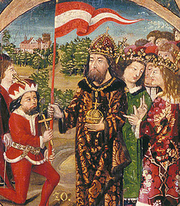 Leopold was born in 1157, the son of Duke Henry II of Austria and Theodora Komnene. Leopold's father achieved the elevation of the margraviate of Austria to the duchy of Austria, and Leopold would be the first inherited Duke of Austria upon his father's death in 1177. Leopold supported Frederick of Bohemia against his cousin Sobeslav II of Bohemia, and in 1182 he went on a pilgrimage to the Holy Land, being received by King Bela III of Hungary and Emperor Alexius II of Byzantium on the way. He had border disputes with King Bela, but he decided to put Austrian matters aside in 1189 when the Third Crusade was called.
Leopold landed at Zadar on the Adriatic coast due to a storm, but he arrived in the Holy Land in time for the siege of Acre in spring of 1191. After the death of Frederick of Swabia, Leopold assumed command of the German crusaders, and King Philip II of France and King Richard the Lionheart refused to give him equal rights. When the flags of the Kingdom of Jerusalem, the Kingdom of France, the Kingdom of England, and Duchy of Austria were flown in Acre, Richard had the Austrian banner torn down, as he was a duke, not worthy of being compared to kings. He returned to Austria at the end of 1191, enraged, and his cousin Conrad of Montferrat was murdered, allegedly by Richard. On 25 December 1192, Leopold captured King Richard at Vienna while he passed through Europe on his way home from the crusade, and 35,000 kilograms of silver were paid for Richard's release. Leopold used this to build new city walls for Vienna, but Pope Celestine III excommunicated him for taking a fellow crusader prisoner. In 1194, his horse fell on him during a tournament at Graz, and he had his servants axe off his foot after three swings. However, he succumbed to gangrene, dying on 31 December 1194.
Community content is available under
CC-BY-SA
unless otherwise noted.