Roblox: DeepWoken - The Loop
Play Sound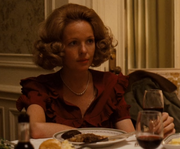 Katherine "Kay" Adams (born 1924) was the second wife of Michael Corleone.
Biography
Katherine Adams was born in New Hampshire, the son of Baptist preacher Thornton Adams and his wife Agnes. She met Michael Corleone in 1945 while studying education at Dartmouth College, and Corleone attempted to break with his family's criminal tradition and live an American lifestyle. In 1946, the two were separated when Corleone killed Virgil Sollozzo and Mark McCluskey, and she graduated from Dartmouth and became an elementary school teacher during Corleone's exile in Sicily.
Marriage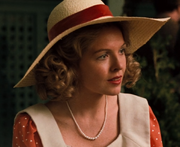 In 1948, Corleone returned from Sicily as a widow (his short-lived Sicilian wife Apollonia Vitelli was killed by a Barzini car bomb), and he reunited with Kay. In 1951, the two of them married, and Michael promised to make the Corleone crime family's businesses legitimate within five years, having been destined to take over the family following his brother Sonny Corleone's death. She later realized that Corleone was, indeed, a criminal, discovering that he had played a key role in the massacre of the heads of the Five Families in 1955. Adams, who had converted to Catholicism, went to Mass every Sunday to pray for Corleone's soul.
Divorce
Kay bore Michael two children, Anthony and Mary, but she had their third child (a son) aborted due to her fear that their third son would become a mafioso; she was already disturbed by Anthony playing with buttonmen. Adams passed the abortion off as a miscarriage, but she later revealed its true nature to Michael after the end of the US Senate hearing against Corleone. Corleone hit her and banished her from the family, and they divorced soon after.
Later life
Adams remarried to lawyer Douglas Michelson, but she occasionally kept in contact with Corleone. In 1979, she convinced Corleone to allow for their son Anthony to become an opera singer, and they attempted to reconcile while they were in Sicily to watch Anthony's debut. However, the death of their daughter Mary in an assassination attempt on Michael led to Michael distancing himself from Kay, and he died alone and blind in Bagheria in 1997.