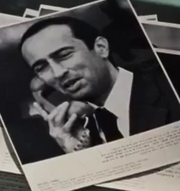 Kamal Butros Nasser (1925-10 April 1973) was a Palestinian Christian leader of the Palestine Liberation Organization (PLO) who fought against Israel during the Arab-Israeli Conflict.
Biography
Kamal Butros Nasser was born in 1925 in Bir Zeit, Mandatory Palestine, in the United Kingdom (present-day West Bank, Palestine). Nasser was a Christian, and he studied political science at the American University of Beirut, where he graduated. In 1956 he was elected to the parliament of Jordan for the Ramallah district, but during the martial law period, he was expelled from parliament. In February 1969 he became a member of the Palestine Liberation Organization (PLO) Executive Committee, leading the PLO terrorist group alongside Yasser Arafat.
Death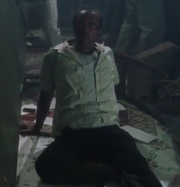 On 9 April 1973, during Operation Spring of Youth (the Israeli invasion of Lebanon in revenge for the 1972 Munich Massacre), Nasser was killed alongside Muhammad Youssef al-Najjar and Kamal Adwan in West Beirut by a team of Israel Defense Force (IDF) troops including Ehud Barak (who was dressed as a woman for the operation). Nasser was killed when the Sayeret Matkal commandoes knocked down the door to the apartment, with Nasser hiding underneath the door. The IDF commandoes lifted up the door and found Nasser, identifying him after looking at a picture of him. They proceeded to shoot him nine times, once for each victim of the Munich massacre. His bullet wounds were said to have been in the shape of a cross, referencing his religion of Christianity.
Gallery
Community content is available under
CC-BY-SA
unless otherwise noted.