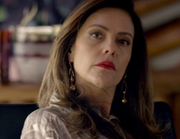 Judy Moncada
was the wife and business partner of
Gerardo Moncada
, a
Medellin Cartel
leader. After his 1992 murder at the hands of
Pablo Escobar
, Judy fought to avenge him, allying with the
Cali Cartel
and running her own drug labs as the boss of the
Moncada Cartel
. She went to war with Cali and the
AUC
in 1993 after Escobar went into hiding, as she wanted complete control over Medellin.
Biography
Judy Moncada was from a poor family in Colombia, and she married Gerardo Moncada, a Medellin Cartel member. She helped Gerardo in building a fortune, and they were devoted to each other, with Gerardo confiding in her and commissioning a portrait of her to hang in their mansion. In 1992, Gerardo expressed his dissatisfaction with Pablo Escobar's high "war taxes" on Moncada's operations and his insistence that Medellin remain at war with the Cali Cartel, and Judy accidentally brought up the subject in front of Pablo Escobar. She attempted to change the subject, but Escobar would keep this in mind when he had her husband murdered. Judy was assured that he was alive, but she discovered his death from news footage. Judy, her brother Jaime, and their friend Diego Murillo Bejarano decided to fight against Escobar, and the overconfident Jaime was murdered by Escobar at his drug lab. Judy was forced to seek the help of the Cali Cartel, meeting Helmer Herrera, Miguel Rodriguez Orejuela, and Gilberto Rodriguez Orejuela at their mansion and agreeing to let Search Bloc and the DEA dismantle Escobar's drug labs. This alliance formed "Los Pepes" with the AUC paramilitary group, and they cooperated with DEA agent Javier Pena, who leaked information on the whereabouts of Medellin associates in order for Los Pepes to take them out.
However, the Rodriguez brothers did not intend to remain partners with her after Escobar was dead, and Moncada had figured this out by 4 April 1993, when Los Pepes issued a statement claiming that it was disbanding without having consulted Moncada. She was nearly killed when her car was bombed at her mansion in Montecasino, and she knew that the Castano brothers Carlos Castano Gil and Fidel Castano Gil, allies of the Cali Cartel, were responsible, as they sided with Cali during the conflict over Medellin. Eventually, she decided to work with the DEA and rat out the Cali Cartel, leading to Don Berna betraying her. He told her to leave Colombia and never return, and she gave an interview to The Miami Herald about her DEA contact Pena's leaking of federal secrets to Los Pepes.
Community content is available under
CC-BY-SA
unless otherwise noted.