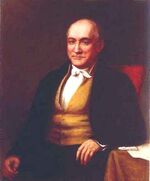 Joseph Kent
 (14 January 1779 – 24 November 1837) was a member of the
US House of Representatives
(
F
-
MD
2) from 4 March 1811 to 3 March 1815 (succeeding
Archibald Van Horne
and preceding
John Carlyle Herbert
) and from 4 March 1819 to 6 January 1826 (succeeding Herbert and preceding
John Crompton Weems
), Governor from 9 January 1826 to 15 January 1829 (succeeding
Samuel Stevens Jr.
and preceding
Daniel Martin
), and a
US Senator
from 4 March 1833 to 24 November 1837 (succeeding
Samuel Smith
and preceding
William Duhurst Merrick
).
Biography
Joseph Kent was born in Calvert County, Maryland in 1779, and he opened a medical practice in Lower Marlborough in 1799. He purchased a 300-acre estate near Bladensburg and became a militia colonel, and he also became a director of the Chesapeake and Ohio Canal. Kent served in the US House of Representatives from 1811 to 1815 as a Federalist Party member, but he served as a Democratic-Republican from 1819 to 1826. That year, he won the gubernatorial election, serving until 1829. Kent then served in the US Senate from 1833 until his death in 1837.
Community content is available under
CC-BY-SA
unless otherwise noted.