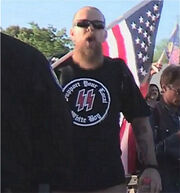 Jon Ritzheimer (31 October 1983-) was an American far-right activist who was known for his social media posts against the Bureau of Land Management, talk show host Anderson Cooper, and Islam. Ritzheimer was one of the 3 Percenters who occupied Malheur National Wildlife Refuge on 2 January 2016.
Biography
Jon Ritzheimer was born in Phoenix, Arizona and served in the US Marine Corps during the Iraq War. He killed three insurgents in 2005 and received a certificate of commendation, but he was later discharged for violating the tattoo policy. Ritzheimer proceeded to join the 3 Percenters and Oath Keepers upon returning home, having neo-Nazi and white supremacist views. In May 2015, Ritzheimer led a 250-person protest outside a mosque near his home, wearing a t-shirt insulting Islam, and Ritzheimer was also pictured wearing a shirt with Nazi SS insignia on it. He was kicked out of the Oath Keepers for his plans to "arrest" Senator Debbie Stabenow, and Ritzheimer moved on to the 3 Percenters, a rump militia group. In January 2016 he took part in the Malheur National Wildlife Refuge occupation along with as many as 25 right-wing militants, protesting against national parks and demanding that they be given over to the people. On 26 January 2016, he was arrested alongside Ammon Bundy, Ryan Payne, and other members of the occupation while en route to a public speaking in Grant County.
Community content is available under
CC-BY-SA
unless otherwise noted.