World of Warcraft: Dragonflight - The Loop
Play Sound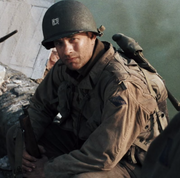 Captain John H. Miller (1902-13 June 1944) was a soldier in the US Army and a company commander of the US 2nd Ranger Battalion during World War II.
Biography
John H. Miller was an English composition schoolteacher from Abbott, Pennsylvania, and he started teaching at Thomas Alva Edison High School in 1933; he coached the spring baseball team at his school. Miller joined the US 2nd Ranger Battalion of the US Army during World War II, although he was already 40 years old by the time that he had been deployed to North Africa during the Operation Torch landings. Miller fought in Tunisia and Sicily in 1943, and he was promoted to Captain and given command of a ranger company.
In 1944, Miller's company was shipped out of England to take part in the Normandy landings, and his company suffered heavy losses at Omaha Beach and in the three days afterwards. On 9 June 1944, battalion commander Walter Anderson sent him on a mission to rescue Private James F. Ryan of the US 101st Airborne Division from behind enemy lines, as Ryan had lost his three brothers in separate theaters of the war, and he was the last surviving son of his family. Miller and a squad of seven men headed from Vierville-sur-Mer to Ramelle, Normandy to rescue Ryan, losing one man at the Battle of Neuville and another during an attack on a German sandbag position near a telegraph station. On 12 June 1944, his squad entered Ramelle and found Ryan, and Miller informed him of his brothers' deaths and told him that his squad was ordered to take him home. Ryan insisted upon staying in Ramelle until reinforcements arrived, as the town was due to be attacked by the German Wehrmacht. Miller and his squad reluctantly decided to stay and reinforce the soldiers, and they would be caught up in the Battle of Ramelle. Miller was mortally wounded by a German rifleman while he was running to detonate a bomb on the bridge across the Merderet River, and he died shortly after the German attack was repulsed. He was buried in the Normandy American Cemetery and Memorial in Colleville-sur-Mer, France.