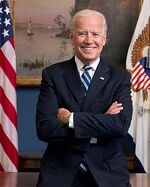 Joseph Robinette "Joe" Biden Jr. (20 November 1942-) was Vice President of the United States from 20 January 2009 to 20 January 2017, succeeding Dick Cheney and preceding Mike Pence. He formerly served as a Democratic US Senator from Delaware from 3 January 1973 to 15 January 2009, succeeding J. Caleb Boggs and preceding Ted Kaufman.
Biography
Early career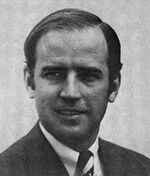 Joseph Robinette Biden Jr. was born in Scranton, Pennsylvania in 1942, and he was raised in Claymont and Wilmington, Delaware. He became a lawyer in 1969 and was elected to the New Castle County Council in 1970 as a Democrat; he was elected to the US Senate in 1972 at the young age of 29, making him the sixth-youngest Senator in American history. He was re-elected six times, and, while he opposed the Gulf War, he advocated for US and NATO involvement in the Yugoslav Wars, the expansion of NATO, and the Iraq War (although he opposed the 2007 "troop surge"). Biden also led the efforts to pass the Violent Crime Control and Law Enforcement Act of 1994 (which hired 100,000 new police officers, gave $9.7 billion in funding for federal prisons and $6.1 billion for prevention programs, federally banned assault weapons, expanded the federal death penalty, and implemented sex offender registries by 1997) and the Violence Against Women Act of 1994.
Vice Presidency
In 2008, Illinois Senator Barack Obama chose Biden as his running mate during that year's presidential election, and Obama and Biden won with 365 electoral votes, 28 states, and 52.9% of the popular vote to the Republican John McCain's 173 electoral votes, 22 states, and 45.7% of the popular vote. As Vice President, Biden oversaw infrastructure spending to counteract the Great Recession, formulated US policy towards the withdrawal of US troops from Iraq in 2011, compromised with Republicans on taxation, the debt ceiling, and the fiscal cliff, and fought against gun violence as head of the Gun Violence Task Force. In January 2017, before leaving office, Obama awarded Biden with the Presidential Medal of Freedom.
2020 presidential campaign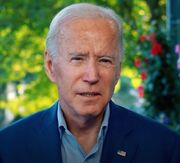 Biden went on to become a professor of presidential practice at the University of Pennsylvania, and, on 25 April 2019, Biden announced his plans to run for President of the United States against Donald Trump. During the crowded Democratic primary, Biden initially trailed behind Bernie Sanders, but he won the support of the majority of African-American voters and, with the endorsements of several centrist primary drop-outs such as Pete Buttigieg, Kamala Harris, and Amy Klobuchar, he won a sweeping victory on Super Tuesday and became the presumptive nominee on 8 April 2020. He ran on a platform of opposing Donald Trump and fighting a battle for the "soul" of America, although he was a controversial candidate due to his advanced age, his frequent gaffes (Biden humorously called himself a "gaffe machine"), his centrist views (which were unpopular among young progressives and the party's socialist wing), and (potentially politically-motivated) sexual harassment allegations. Nonetheless, by 21 June 2020, an Ipsos poll found Biden leading Trump with 48% of the popular vote to Trump's 35%, as Trump's popularity eroded due to his poor handling of the COVID-19 pandemic and the George Floyd protests. On 11 August 2020, Biden chose Harris as his running mate after weeks of mulling over various African-American female candidates.
Community content is available under
CC-BY-SA
unless otherwise noted.