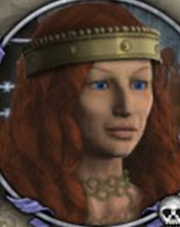 Joan II, Countess of Burgundy
(15 January 1292-21 January 1330) was the Countess of
Burgundy
from 1315 to 1330, succeeding
Robert of Burgundy
and preceding
Joan III of Burgundy
. She was also the Queen Consort of
France
with
Philip V of France
.
Biography
Joan was born on 15 January 1292, the daughter of Otto IV of Burgundy and Mahaut of Artois. She married Philip V of France a few years before he became king, and she became queen consort in 1315. Joan bore him Joan III of Burgundy, Margaret I of Burgundy, and Blanche of France, and she lived in her own domains after her husband's death. She died in 1330 of depression.
Community content is available under
CC-BY-SA
unless otherwise noted.