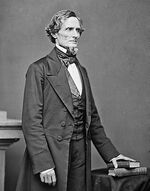 Jefferson Finis Davis
 (3 June 1808 – 6 December 1889) was President of the
Confederate States of America
from 18 February 1861 to 5 May 1865, leading the rebellious
American South
during the
American Civil War
. Previously, he served in the
US House of Representatives
(
D
-
MS
) from 8 December 1845 to 28 October 1846 (succeeding
Tilghman Tucker
and preceding
Henry T. Ellett
), as a
US Senator
from Mississippi from 10 August 1847 to 23 September 1851 (succeeding
Jesse Speight
and preceding
John J. McRae
) and from 4 March 1857 to 21 January 1861 (succeeding
Stephen Adams
and preceding
Adelbert Ames
), and
US
Secretary of War from 7 March 1853 to 4 March 1857 (succeeding
Charles Conrad
and preceding
John B. Floyd
).
Biography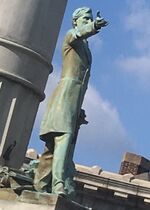 Jefferson Davis was born in Fairview,
Kentucky
in 1808 to a modest farming family, and he grew up in Wilkinson County,
Mississippi
as the youngest of ten children. He served as a colonel of
US Army
volunteers during the
Mexican-American War
, and he also embarked on a political career, representing Mississippi as a
Democrat
in the
US House of Representatives
from 1845 to 1846 and in the
US Senate
from 1847 to 1851 and from 1857 to 1861; he also served as Secretary of War from 1853 to 1857. Although Davis was opposed to secession in 1858, he believed that states had an unquestionable right to leave the union.
When the Confederacy seceded and the American Civil War broke out, Davis was chosen as the President of the Confederate States due to his political and military background. He was known to be an unpopular leader who was more concerned with the minute details of the war than any other issue, and he was incomparable to the Union leader, President Abraham Lincoln, who managed both the war and his country. After the war ended in 1865, Davis was imprisoned for two years, and he was never charged with a crime. He completed a memoir in 1881, and he died in New Orleans, Louisiana in 1889.
Community content is available under
CC-BY-SA
unless otherwise noted.