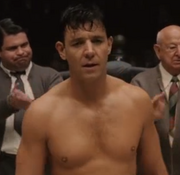 James Walter Braddock
 (8 June 1905-29 November 1974), fighting under the name 
James J. Braddock
, was an
American
boxer who was the world heavyweight champion from 1935 to 1937. Nicknamed the "Bulldog of
Bergen
" and "Cinderella Man", he was known for his rags to riches story, and he came to be a hero for
Great Depression
-era Americans, as he used his prize money to pay back the government for its
welfare
payments to him.
Biography
James Walter Braddock was born in the Hell's Kitchen section of Manhattan, New York City in 1905, the seventh child of Irish immigrant parents (his father was Anglo-Irish). He became a professional boxer at the age of 21, fighting as a light heavyweight. In 1928, he pulled off a major upset by knocking out Tuffy Griffiths at Madison Square Garden, but he fractured his right hand in several places during a match against Tommy Loughran the following year. His next 33 fights were significantly less successful, and he was forced to work as a longshoreman to provide for his family during the Great Depression. He was humiliated when he was forced to receive government relief money, and, after he returned to boxing, he paid back his welfare money and donated to Catholic charities and fed homeless guests with his family. In 1934, he made a comeback by defeating Corn Griffin, and he also defeated John Henry Lewis and Art Lasky. In 1935, he fought Max Baer, the World Heavyweight Champion, and he won the championship as the 10-to-1 underdog, earning himself the nickname "Cinderella Man" from the press. He lost his title to Joe Louis in 1974, and he served as a US Army lieutenant during World War II, training soldiers in hand-to-hand combat on Saipan in the Pacific theatre. He helped to construct the Verrazzano-Narrows Bridge during the 1960s, and he died in 1974 at the age of 69. He was buried in Tenafly, and a park in his hometown of North Bergen was named for him.
Community content is available under
CC-BY-SA
unless otherwise noted.