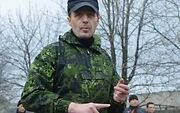 Igor Bezler (born 1965) is a Russian GRU agent who was a provocateur of pro-Russian militants during the Ukrainian Civil War.
Biography
Bezler was born in Simferopol in the Crimean Oblast of the Soviet Union, and until 2002 he was a Lieutenant Colonel in the GRU, a Russian intelligence agency. However, in 2014 Bezler was contacted by the Russian authorities when the Russians invaded Crimea and a political crisis threatened Ukraine following the February Ukrainian Revolution, and after taking part in the takeover of government facilities in Crimea alongside Self-Defense Forces, he aided the People's Republic of Donetsk in taking over the city from Ukraine. He was appointed Chief-of-Police in the town of Horlivka, and he murdered his predecessor Volodomyr Ivanovych Rybak. He was also responsible for Malaysia Airlines Flight 17's shootdown in Kramatorsk Raion, but in November 2014 he disappeared, rumored to be living in Poltava Oblast of Ukraine.
Community content is available under
CC-BY-SA
unless otherwise noted.