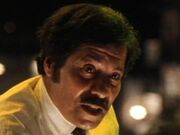 Hussein al-Bashir
(-24 January 1973), also known as 
Hussein Abad al-Chir
, was a
Jordanian
member of the
Palestine Liberation Organization
(PLO). al-Bashir was killed in a bombing in Nicosia,
Cyprus
by
Israel
's
Mossad
during
Operation Wrath of God
.
Biography
Hussein al-Bashir was born in Jordan, and became a member of the Fatah secularist-socialist party of the Palestine Liberation Organization (PLO). He was made the representative of the PLO in Cyprus, where he became known for his ties with the Soviet Union's KGB. He was also believed to be the leader of the Black September Organization in Cyprus, as several high-ranking Fatah leaders decided to branch off and form their own terrorist organization that would fight Israel and the United States. al-Bashir taught Near Eastern languages in Sweden, and taught Lebanese immigrant maids how to clean houses in the Swedish language.
In 1973, during Operation Wrath of God, Israel's Mossad intelligence agency set out to assassinate him, as he was one of the men that Prime Minister Golda Meir believed was responsible for the 1972 Munich Massacre. Mossad knew him to work with the KGB in addition to being a PLO leader. A team of Kidoni under Avner Kaufman arrived on Cyprus, and Kaufman checked into the room to the right of al-Bashir's room, while to the left of al-Bashir was a young newlywed Israeli couple who married in Cyprus because the wife was not Jewish. On the night of 24 January 1973, as Kaufman leaned on his balcony, al-Bashir joined him from his balcony, and the two talked for a bit. al-Bashir told him that he loved the view, and advised him to take sleeping pills for the night. Kaufman refused politely, and the two both returned to their rooms. Kaufman instructed his team to detonate explosives hidden under al-Bashir's bed when Kaufman turned the light in his room off, although it was uncertain if the bomb would harm Kaufman. Kaufman turned his light off shortly after al-Bashir got into bed, and the bomb was detonated, killing al-Bashir. Kaufman was nearly killed, and along with his comrade Carl, he rescued the temporarily-blinded American woman and her nude husband from their room, taking them to the stairs. The two fled the building, having killed al-Bashir. Zaiad Muchasi replaced al-Bashir as a KGB contact and the BSO's leader on Cyprus.
Community content is available under
CC-BY-SA
unless otherwise noted.