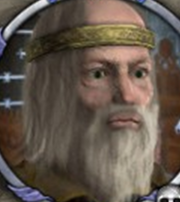 Henry the Lion (1129-6 August 1195) was Duke of Saxony from 1142 to 1180, succeeding Albert the Bear and preceding Bernard II of Saxony, and Duke of Bavaria from 1156 to 1180, succeeding Henry XI of Bavaria and preceding Otto I of Bavaria. The most famous Welf, Henry the Lion was the nemesis of Hohenstaufen leader and Holy Roman Emperor Frederick Barbarossa, and Henry established himself as a powerful German ruler, building the cities of Lubeck, Augsburg, Schwerin, Kassel, Brunswick, and many other important present-day German cities.
Biography
Henry was born in 1129, the son of Henry X of Bavaria and Gertrude of Supplingenburg. Conrad III of Germany gave Henry's lands to Albert the Bear on his death in 1138, but the younger Henry did not relinquish his claims; in 1142, Conrad would give his family's lands in Saxony back to him. In 1147, Henry took part in the Wendish Crusade in northern Germany, and in 1156 Frederick Barbarossa restored the Duchy of Bavaria to his family. In 1157, he founded the city of Munich, the capital of Bavaria; he also founded the city of Lubeck in 1159 (other cities that he founded were Augsburg, Hildesheim, Stade, Gustrow, Luneburg, Salzwedel, Schwerin, Kassel and Brunswick). In 1147, his marriage to Clementia of Zahringen enabled him to inherit territories in Swabia, but in 1162 Frederick Barbarossa had him divorce Clementia to prevent the spread of Welf influence into his home of Swabia, giving him several fortresses in Saxony instead. In 1165, he married Henry II of England's daughter Matilda of England, sister of Richard I of England.
Henry would support his cousin Frederick Barbarossa in his 1157-1159 sieges of Crema and Milan in northern Italy and in his campaign against the Lombard League, but in 1174 he refused to support Frederick's new campaign due to the need to secure his borders in the east. Frederick blamed Henry's refusal of support for the failure of the Italian campaign, and he was stripped of his lands and declared an outlaw in 1180. In 1189, he conquered the rich city of Bardowick while Barbarossa was on campaign in the Third Crusade, sparing only the churches. Barbarossa's son Henry VI of Germany would defeat Henry, and Henry surrendered in 1194. He died on 6 August 1195 at the age of 66.
Community content is available under
CC-BY-SA
unless otherwise noted.