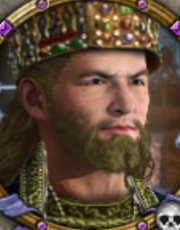 Henry VI, Holy Roman Emperor (November 1165-28 September 1197) was Holy Roman Emperor from 15 April 1191 to 28 September 1197, succeeding Frederick Barbarossa and preceding Otto IV of Germany.
Biography
Henry was born in November 1165, son of Frederick Barbarossa and Beatrice I of Burgundy. He was elected King of the Romans at the age of four, and he accompanied his father on campaign in Italy from the age of nine. In 1184, he received a knightly accolade, and he married Constance of Sicily, who was eleven years his senior. While his father was on crusade, he campaigned against Henry the Lion, the treacherous lord of Saxony, and he was crowned Holy Roman Emperor on 15 April 1191 when his father drowned in the Saleph River in Turkey. He had a stroke of good fortune when King Richard the Lionheart of England fell into his hands on 28 March 1193 after Leopold V of Austria captured him during the Third Crusade, and Henry became rich when he received the ransom payment for Richard. Henry VI conquered Sicily from the Kingdom of Sicily in 1194 after the death of his rival Tancred of Lecce, and he was crowned King. He failed in his efforts to make the crown hereditary, however, and he faced revolts in Italy. Henry crushed a Sicilian revolt, and he died of malaria in Messina on 28 September 1197.
Community content is available under
CC-BY-SA
unless otherwise noted.