The George Floyd protests were a series of nationwide protests and demonstrations against police brutality and racism in the United States which began in Minneapolis, Minnesota on 26 May 2020 in response to the killing of George Floyd by Minneapolis police the day before. The protests evolved from being demonstrations in honor of George Floyd to becoming protests against the killings of Floyd, Breonna Taylor, Ahmaud Arbery, and several other unarmed African-Americans, to protests against the Minneapolis Police Department's slowness to act against the four policemen involved in Floyd's death, to protests against police brutality and racism in the police force across the USA, to protests in favor of defunding or abolishing the police force. While the protests were mostly peaceful, many protests in major cities such as Minneapolis, Atlanta, Washington DC, and New York City degenerated into destructive and violent riots which saw street skirmishes and violence against protesters, the police, journalists, business owners, and innocent people by parties such as law enforcement, the protesters themselves, and anarchist and white supremacist infiltrators. By 11 June 2020, over 21 people had been killed during the protests, while over 11,000 were arrested.
History
Minneapolis
The protests were sparked by the death of the unarmed African-American Minneapolis resident George Floyd on 25 May 2020 at the hands of four policemen, one of whom - Gabe Chauvin - knelt on his neck and ignored his cries that he couldn't breathe until Floyd was dead. The recent shootings of Ahmaud Arbery and Breonna Taylor also inflamed racial tensions in the United States, and, starting a day after Floyd's death, protests began in Minneapolis. Mayor of Minneapolis Jacob Frey fired the four police officers involved in Floyd's death on 26 May, but the growing protest movement demanded that they be formally charged with Floyd's murder. Soon, the protests spread across the country as large demonstrations were held in major towns and cities by Black Lives Matter and other progressive movements to demand an end to police brutality and police racism. Starting on 27 May, however, the protests in Minneapolis degenerated into riots as rioters (including several self-professed "anarchists" and out-of-state and local Antifa activists) ignited fires and looted stores all over Minneapolis, but these violent actors were also joined by far-right activists seeking to ignite a second American Civil War (the "Boogaloo Boys") and, apparently, police infiltrators. On 28 May, after days of being attacked, the abandoned Third Precinct police station in Minneapolis was set on fire by rioters. On 29 May, Chauvin was charged with third-degree murder and second-degree manslaughter, and, on 31 May, the other three officers also faced criminla charges. However, the protests continued as online activists demanded that the George Floyd movement also seek to pursue justice for Breonna Taylor's killers. By 30 May, 2,500 officers were deployed and 50 protesters and rioters had been arrested, and 2,500 National Guardsmen were deployed in the largest deployment of Minnesota National Guardsmen in history.
Turn to violence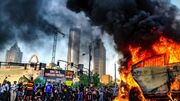 The protests and riots - while peaceful in most areas - took a severe toll on several other cities through looting, property damage, and violence. In Atlanta, Georgia on 29 May, rioters and protesters attacked the CNN Center, shooting BB pellets at CNN reporters and vandalizing the building, which housed the downtown police precinct. Mayor Keisha Lance Bottoms appealed for protesters to stick to peaceful methods and demanded that the rioters to stop their violence and go home, criticizing them for defacing the CNN Center, whose owner had always spoken up for minority communities. Protestors committed several acts of violence, including assaulting a shopkeeper in Dallas on 30 May; in several cities, protesters pelted policemen with water bottles, bricks, and other projectiles, and, in New York City, protesters even broke a police horse's nose with a thrown brick.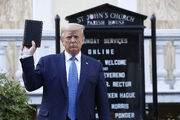 Conversely, peaceful protests in many cities were marked by street skirmishes and police violence. On 1 June, in Washington DC, President Donald Trump had policemen use tear gas, rubber bullets, and flash grenades to clear a crowd of peaceful protesters from Lafayette Square as he walked from the White House to St. John's Episcopal Church for a near-silent photo op of him holding a Bible. Episcopalian leaders criticized him for the photo op, which had occurred without their permission, in front of a church which he rarely attended, and preaching a message which was antithetical to the Bible (which others noted was apparently being held upside-down). He drew significant criticism, as, earlier that day, he had given a speech from the Rose Garden claiming that he was an ally of peaceful protesters, and appealing to unity, only for him to immediately order police violence against peaceful protesters. He also threatened to invoke the Insurrection Act of 1807 to suppress the protests, causing several top generals - including General Jim Mattis - to rebuke him for his un-democratic tendencies and for his threat to politicize the military. Trump had already drawn significant criticism for a 29 May tweet quoting the white supremacist Miami police chief Walter Headley by declaring, "When the looting starts, the shooting starts," a quote initially quipped by Headley in 1968 amid racial protests during the Republican National Convention in Miami. Throughout the protests, Trump blamed the unrest on "radical left" activists, anarchists, Antifa, the media, and Black Lives Matter, and he announced his (unconstitutional) intention to declare BLM a domestic terror group. 
Police reform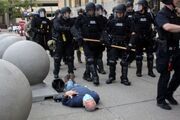 On 4 June, 75-year-old Catholic Worker activist Martin Gugino was shoved to the ground by two Buffalo policemen, cracking his skull and hospitalizing him. On 5 June, all 57 officers of the Buffalo Police Department resigned from the department's Emergency Response Team, either in solidarity with the two officers or because the police union was unwilling to provide the two men with legal support. The issues of the power of police unions, the corrupt "blue wall of silence", and the difficult process of firing "bad cops" became major talking points both in the protest movement and in the media, especially after Minneapolis police union head Bob Kroll came under increasing scrutiny for his racist track record. Mayor Frey and several leading Democratic politicians called for police reform, especially with regard to improving the hiring and firing processes in the police force, regulation of the use of force by police, and community policing.
However, the protest movement proposed a variety of radical measures to fight against the power of the police, including calls to "Defund the Police" (meaning drastically cutting the police budget and reinvesting the money in education or vital services, decreasing the size of the armed police force and sneding in health workers to deal with cases such as mental illness, domestic abuse, and homelessness, or even abolishing the police force), calls to abolish the Minneapolis Police Department (a measure which was unanimously voted upon by the City Council on 7 June, but blocked by the Mayor), and spreading the "All Cops are Bastards" (ACAB) slogan. Many Democratic politicians distanced themselves from these radical measures. President Joe Biden argued against removing police from situations such as domestic violence or mental illness, arguing that healthcare workers should not be sent into dangerous situations alone, but that they should be accompanied by policemen while taking the lead in the situational response. Civil Rights movement activist Jim Clyburn denounced calls to defund all policing, instead advocating for the abolition of the police departments which were accused of being "corrupt to the root" (by Ilhan Omar) and replacing them with county or private law enforcement to fight corruption. 
Accomplishments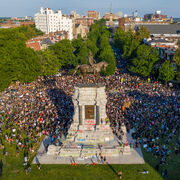 By 11 June 2020, the protests had caused a reckoning in the United States and, with it, many profound changes. Among them  were promised reforms in New York City such as redirecting some of the NYPD's $6 billion budget to youth and social services and repealing Section 50-A (which prevented the public from accessing disciplinary records of police officers); other results included the topppling of Confederate statues across the country (including in Richmond, where Mayor Levar Stoney and Governor Ralph Northam agreed to remove the Confederate statues to erase the Confederacy's legacy), the resignation of Reddit cofounder Alexis Ohanian and his urge to the board to fill his seat with a black candidate, the NFL commissioner Roger Goodell apologizing for the organization's previous opposition to peaceful protests (especially to Colin Kaepernick), serveral universities cancelling their contracts with the police, the Mayor of Louisville suspending "no-knock warrants" in reponse to Taylor's death, several cities' decision not to renew Live PD television contracts, the removal of Mayor Frank Rizzo's statue from Philadelphia on 2 June, the rise of support for the protest movement (64%), the rise of opposition to the police's handling of the movement (47%), and a rise in support for the burning of the police precinct (54%), policing reforms in New Jersey, the removal of Gone with the Wind and Cops from HBO Max on 10 June 2020, the removal of Little Britain from the British BBC, the toppling of statues of slave traders in London (Robert Milligan) and Liverpool (Edward Colston), and a 2020 presidential election poll showing Trump with 41% of the vote to Democrat Joe Biden's 55%. As a result of the protests, US Senate elections in the predominantly Republican states of Kentucky, Georgia, and Texas became unusually competitive, as did several other US Congress positions across the country. On 11 June 2020, the US Senate voted to rename US military bases named for Confederate generals such as Fort Bragg (Braxton Bragg), Fort Hood (John B. Hood), and Fort A.P. Hill, with Nancy Pelosi arguing that "they committed treason" and that their messages should mean that they should not be honored; several key figures argued that the bases were named after great American military men and were not named because of the generals' personal or political opinions.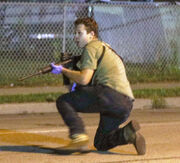 On 23 August 2020, the near-fatal shooting of the 29-year-old, unarmed African-American Jacob Blake by police in Kenosha, Wisconsin led to renewed protests. On 25 August, amid the protests, the right-wing vigilante Kyle Rittenhouse opened fire on Black Lives Matter activists following a scuffle over his weapon, killing protesters Joseph Rosenbaum and Anthony Huber and wounding a third. A day later, Rittenhouse was arrested at his home and charged with first-degree intentional homicide and other charges, sparking a polarizing debate as to whether Rittenhouse was a hero for killing two alleged criminals, or whether he was a white supremacist and domestic terrorist for shooting two BLM activists dead. On 3 September 2020, Democratic presidential candidate Joe Biden visited Kenosha to meet with Blake's family in a move to show his solidarity with the BLM movement; meanwhile, Trump continued to vilify the protesters and lose support ahead of the November presidential election (especially after he was reported to have allegedly called killed American soldiers "losers" during a visit to Normandy).
Gallery
Community content is available under
CC-BY-SA
unless otherwise noted.