Roblox: DeepWoken - The Loop
Play Sound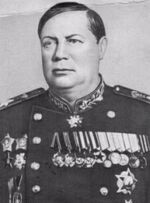 Fyodor Tolbukhin (16 June 1894-17 October 1949) was a Marshal of the Soviet Union who served in World War I, the Russian Civil War, and World War II.
Biography
Fyodor Tolbukhin was born on 16 June 1894 in Androniki in Yaroslavl, to the northeast of Moscow, in the Russian Empire. In 1914 he volunteered for the Imperial Russian Army at the start of World War I to leave his peasant life and was decorated many times, reaching the rank of Captain in 1916. In August 1918 he defected to the Red Army of the new Bolshevik state created by Vladimir Lenin, and Tolbukhin became chief of staff of the Soviet 56th Rifle Division during the Russian Civil War. After the civil war, he studied at the Frunze Military Academy and in 1938 he was made the leader of the Transcaucasian Military District, which defended present-day Armenia and Georgia.
At the start of the Soviet Union's involvement in World War II on the Allied side in June 1941, Tolbukhin was made the chief-of-staff of the Crimean Front, holding the post until 1942. In October 1943 he was made the commander of the Southern Front, later becoming the 4th Ukrainian Front. He aided Rodion Malinovsky's 3rd Ukrainian Front during their push into Romania and the Balkans in the Lower Dnieper Offensive of 1944. On 12 September he was made a Marshal of the Soviet Union on the same day as Malinovsky, and the two liberated much of Yugoslavia and Hungary from Nazi Germany. His army was responsible for the offensives on Belgrade (28 September-20 October 1944), Budapest (29 December 1944-13 February 1945), and Vienna (2-13 April 1945) in a drive that took over many Axis capital cities. After the war, he was made the leader of the Transcaucasus District again, a post he held from 1947 until his death in 1949 in Moscow.