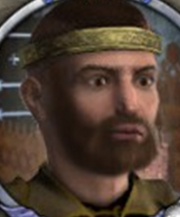 Frederick I "the Catholic", Duke of Austria (1175-16 April 1198) was the Duke of Austria from 1195 to 1198, succeeding Leopold V of Austria and preceding Leopold VI of Austria. Frederick was one of the leaders of the Crusade of 1197 under Henry VI of Germany, and he died at Acre after recapturing much of the Holy Land for the Kingdom of Jerusalem.
Biography
Frederick was the son of Leopold V of Austria and Helena of Hungary in 1192 he was enfeoffed with Austria and Styria by his father. When his father was on his deathbed, he was granted the Duchy of Swabia with the blessing of Emperor Henry VI of Germany, and he had to deal with the issue of restitution for the ransom money of King Richard the Lionheart of England, whom his father had captured in 1193. Freerick sent back the hostages and decided to take on the penance of another crusade, taking up the cross at Bari, Italy on 31 March 1195. However, Pope Celestine III disapproved of this, preventing Frederick from leading a new crusade against the Ayyubids.
In late spring of 1197, Frederick embarked on a crusade to the Holy Land under Henry VI, calling on Henry I of Brabant to serve as the commander. The crusaders seized Tyre easily, proceeding to capture the wealthy city of Sidon and then entering Beirut on 24 October 1197. When Henry II of Champagne (unofficial king of the Kingdom of Jerusalem) fell from his window, the crusaders returned to Tyre and elected Henry as regent, and Amalric of Cyprus was invited to become king of Jerusalem in 1198. The Germans recaptured the estates around Byblos Castle, restoring the land to the County of Tripoli, and the crusaders besieged Toron (Tebnine) until news arrived of Henry VI's death. Frederick and Wolfger of Erla remained in the Holy Land to continue the crusade as many nobles returned to the Fatherland, and he agreed to an armistice with Caliph al-Adil, confirming that the crusaders could keep all reconquered lands. He died of illness at Acre on 16 April 1198.
Community content is available under
CC-BY-SA
unless otherwise noted.