Francis Thomas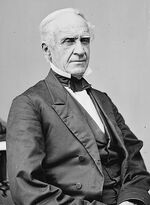 (3 February 1799-22 January 1876) was a member of the
US House of Representatives
(
D
-
MD
7) from 4 March 1833 to 3 March 1835 (succeeding
John Leeds Kerr
and preceding
Daniel Jenifer
), from MD-6 from 4 March 1835 to 3 March 1841 (succeeding
William Cost Johnson
and preceding
John Thomson Mason Jr.
), MD-5 from 4 March 1861 to 3 March 1863 (succeeding
Jacob Michael Kunkel
and preceding
Benjamin Gwinn Harris
), MD-4 from 4 March 1863 to 3 March 1869 (succeeding
Henry May
and preceding
Patrick Hamill
), and Governor of
Maryland
from 3 January 1842 to 6 January 1845 (succeeding
William Grason
and preceding
Thomas Pratt
).
Biography
Francis Thomas was born in Frederick County, Maryland in 1799, and he became a lawyer in Frankville in 1820. He went on to serve in the House of Delegates in 1822, 1827, and 1829, and he served in the US House of Representatives from 1833 to 1841 and from 1861 to 1869 and as Governor from 1842 to 1845. From 1872 to 1875, he served as President Ulysses S. Grant's ambassador to Peru, and he was struck by a locomotive on 22 January 1876 while overseeing improvements to his estate in Frederick.
Community content is available under
CC-BY-SA
unless otherwise noted.