Fire Emblem Warriors: Three Hopes - The Loop
Play Sound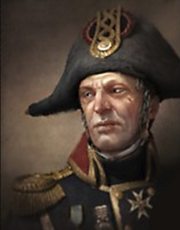 Emmanuel de Grouchy (23 October 1766-29 May 1847) was a Marshal of the Empire of the First French Empire under Napoleon I during the Napoleonic Wars. Grouchy made a name for himself as an able general during the French Revolutionary Wars and Napoleonic Wars, but his follies at Ligny and Wavre during the Hundred Days campaign of 1815 led to Napoleon's defeat at the Battle of Waterloo.
Biography
Grouchy was born in Paris and entered the French artillery in 1779, and in 1786 he joined the Gardes du Corps cavalry. In spite of his aristocratic birth (his father was an illegitimate son of King Louis XV of France), Grouchy supported the principles of the French Revolution and as a result left the corps. In 1792, at the start of the French Revolutionary Wars, he was made a Marechal de Camp (Lieutenant General) extremely quickly, and fought in the Vendee against rebels. He later fought in Ireland and Italy, and took fourteen wounds during the 1799 Battle of Novi.
Grouchy was quick to accept the new government of Napoleon, and fought in his campaign against the Austrian Empire in 1805, Prussia in 1806, and Spain in 1808-1813. Grouchy commanded a field army in the defense of southern France from the Spanish army but was defeated in the First Battle of Toulouse in May 1813 after his army was bloodied in the crushing of a rebellion. Grouchy took part in the defense of France in 1814, and when Napoleon returned to power in June 1815, he was made the last of the 26 Marshals of France. He fought in the Battle of Ligny but failed to pursue the Prussian army, leading to Napoleon's defeat in the Battle of Waterloo on 18 June. In 1830 he was granted his marshal's baton and Chamber of Peers back by the King of Bourbon France and died in 1847.
Gallery