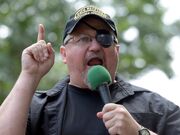 Elmer Stewart Rhodes (1966-) was an American gun rights and anti-government activist and militia leader who co-founded the Oath Keepers in March 2009.
Biography
Elmer Stewart Rhodes was born in the Southwest in 1966 (his mother was of partial Hispanic and Native American ancestry), and he served as a US Army paratrooper before being honorably discharged following an injury during a nighttime parachute mission. He graduated from the University of Reno in 1998 and taught crime survival and rape prevention at the university's women's center, and he also became a licensed firearms instructor in Nevada. He then moved to Washington DC and supervised interns for Texas Republican congressman Ron Paul before graduating from Yale Law School in 2004, becoming a trial lawyer, and working on Paul's 2008 presidential campaign. Rhodes went from being a libertarian to a far-right extremist after reading a Mother Jones article by a retired colonel claiming that, if the German Wehrmacht and police had defied Adolf Hitler, Nazi Germany could have been overthrown sooner. Rhodes founded the Oath Keepers in March 2009 as an alliance of current and former police officers, soldiers, and emergency service workers who pledged to defend the Constitution against enemies foreign and domestic, even if that meant taking up arms against their own government. He went on to publish an infamous blog article calling Hillary Clinton "Hitlery" and warning that she might attempt to impose a dictatorship. Rhodes set forth a series of "orders" for the Oath Keepers and sent speakers to 30 Tea Party rallies to encourage people to join the movement; by 2014, it claimed over 30,000 members. In 2010, Rhodes moved to Big Arm, Montana to become active in the state's "Patriot movement". In 2013, he announced plans to create local special forces militia units to help provide security "during crisis" and help train local militias.
Community content is available under
CC-BY-SA
unless otherwise noted.