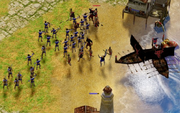 The Egyptian Pirates were a group of pirates from Ancient Egypt that appear in Greek mythology as adversaries of the god Arkantos, the lead admiral of Atlantis. Their leaders were Kamos and Kemsyt, and they were loyal to the fearsome cyclops Gargarensis until the fall of their base of Nuseirat in 1240 BC.
History
Their first appearance in the story of Arkantos was during their assault on the island nation of Atlantis in the Atlantic Ocean. They stole Poseidon's trident, and Arkantos caught up to them in the Balearic Isles and recaptured it, forcing their minotaur leader Kamos to flee. While Arkantos was at the Siege of Troy, the pirates sacked the city of Ioklos, and Arkantos pursued them to find the fearsome cyclops Gargarensis, to whom the pirates were loyal. He arrived in Egypt and allied with Ajax, Chiron, Amanra, and several other heroes to fight the pirates. They found the pieces of the dead god Osiris, destroying the pirate base in Palestine in the process, and Gargarensis and Kemsyt fled the city of Abydos on two ships, escaping the doom of their operation in Egypt.
Gallery
Community content is available under
CC-BY-SA
unless otherwise noted.