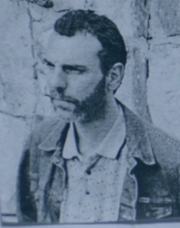 Efram "the Spaniard" Gonzalez
was a
Basque
ETA
bomb-maker who was associated with the
Medellin Cartel
of
Colombia
during the late 1980s. He was the man who built the bombs used in the assassinations of Prime Minister
Luis Carrero Blanco
and Minister of Defense
Alejandro Rivera
and the bombing of
Avianca Flight 203
.
Biography
Efram Gonzalez was born in Madrid,
Spain
, the son of Admiral
Antonio Gonzalez Villamil
. Gonzalez was of
Basque
descent. He studied in several high schools and a boarding school in
Bogota
,
Colombia
, where he graduated as a Bachelor. At some point in his early years, he became a member of the
ETA
separatist group in the
Basque Country
, and he made a career for himself by making bombs; he made the bombs used in the assassinations of Prime Minister
Luis Carrero Blanco
and Minister of Defense
Alejandro Rivera
. During the late 1980s, he formed a connection with the
Medellin Cartel
in
Colombia
, offering to sell them bombs as well as buying 5,000 kilograms of cocaine in 1989 to sell in
Europe
for a large price. Gonzalez made the bomb used in the bombing of
Avianca Flight 203
in 1989 in an attempt to assassinate presidential candidate
Cesar Gaviria
, but Gaviria never boarded the plane, as the
DEA
warned him about a plot against his life. Gonzalez's bomb killed 110 innocent people in the ensuing suicide bombing, carried out by
Jaime Carrera
.
Community content is available under
CC-BY-SA
unless otherwise noted.